The Great Moroccan Goodbye Tour, Part 2: Marrakesh and Ouzoud Falls
The day after Thanksgiving, we arrived in Marrakesh and piled into a taxi for the drive to Jemaa El Fna, the main square in the old medina. 'Medina' is the Arabic word for 'city', but in Morocco it's typically used to refer to the historic city center with narrow pedestrian streets and traditional houses and markets.
It was already dark, but evenings are still crowded and chaotic there compared to my quieter neighborhood in Casablanca. We fended off the guides and salesmen that descended upon us and soon found our hotel. Lodging in Morocco can be found for very cheap, but sometimes this entails a few uncomfortable quirks. While our hotel was beautifully decorated, the bathroom door handle was broken and we each had to be rescued from within on various occasions during our stay. Furthermore, an internal window had been poorly plastered over, and this meant that in the evening we could hear chanting from a nearby mosque as loudly as if the worshipers had been in the room with us.
Anyway, we ate dinner at a rooftop cafe and explored the outer edge of the labyrinth of souks, or markets. Marrakesh is a major tourist destination, and around Jemaa El Fna you can buy leather bags, bronze lamps, wool blankets, pottery, spices, and other traditional Moroccan souvenirs. Bargaining is a national pastime and we did our best to talk down the prices as much as we could.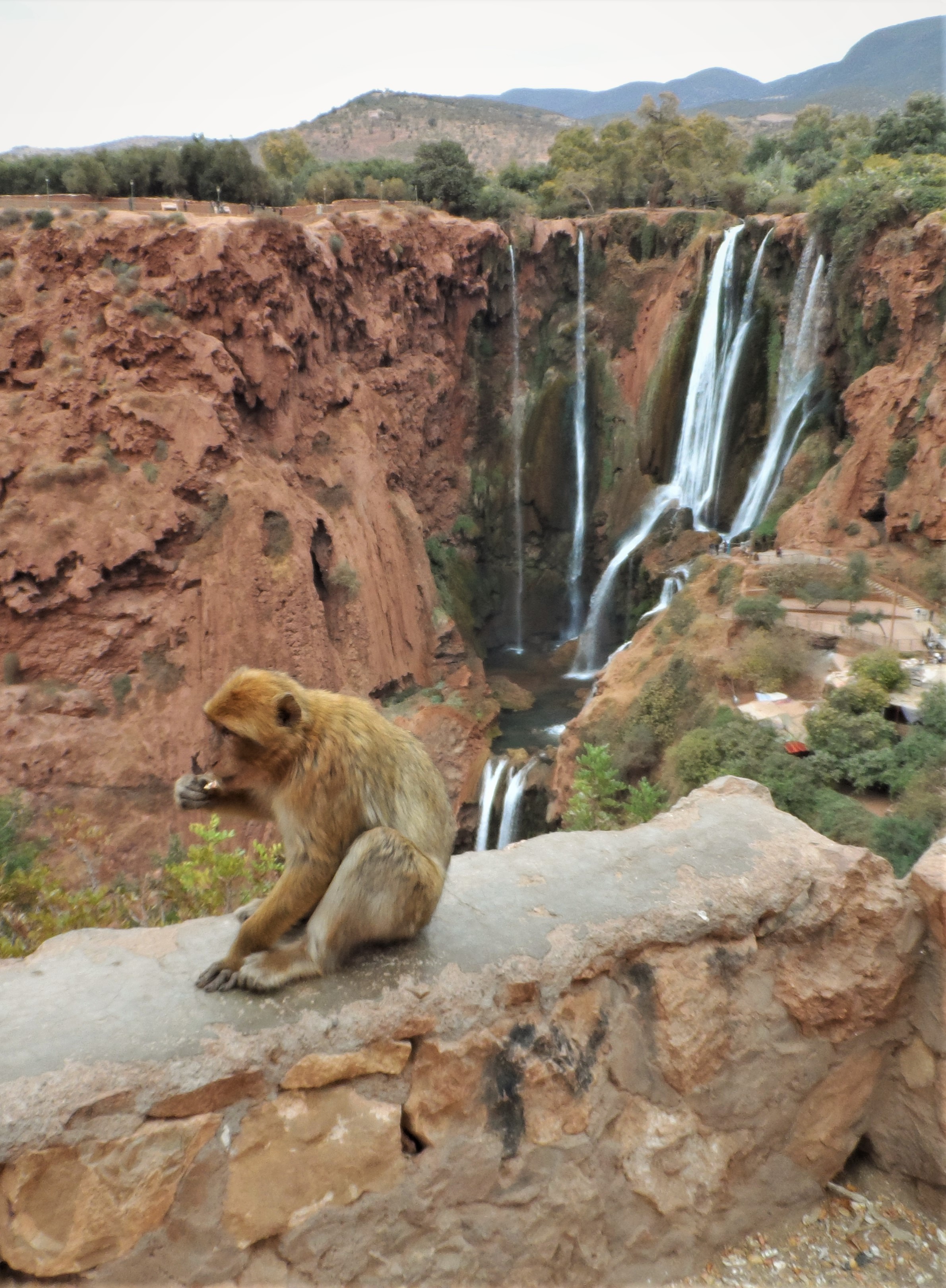 The next day, we woke up early and met Rachid from Pathfinders treks to discuss our tours for the weekend. That day, we would travel to Ouzoud Falls, and the following morning, we would begin a road trip to the southeast part of Morocco to ride camels in the Sahara and then end up in Fez.
Rachid introduced us to our guide Ibrahim and our driver Mohamed, and we piled into the van to the falls. Up in the Atlas Mountains, we found a small town clustered around the top and on the sloping sides of a massive waterfall. It was greener than everywhere we'd been so far. Other tourists were gathered around a viewpoint where monkeys patiently consented to photos as long as they were paid in peanuts.
We descended a shallow staircase that wound its way down the mountainside through the village. At the base of the 110m (360ft) falls, we boarded a boat and enjoyed a slow circle of the pools. Afterward, we ate a tasty tajine lunch and explored a little longer before returning in the van to Marrakesh.